WHEN Shannon Co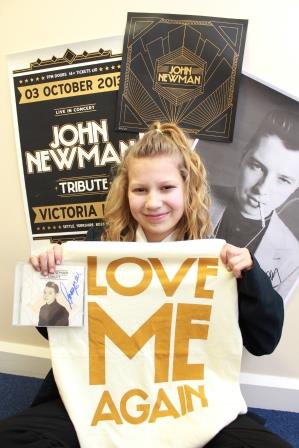 kell took her school project to a Manchester gig not only did musician and writer John Newman autograph her work about him, but she also received a huge hug.
Haslingden High School music teacher, Gavin Peel set the homework to write about a famous musician and for Shannon there was no contest as she is a huge John Newman fan.
Shannon, 12, is in Year 7 and her mum Terry used to live in Stainforth, where John comes from, and as children they would play together.
Terry arranged for Shannon to see John, who was number 1 with Love Me Again last year, at an intimate 200-guest performance at Settle's Victoria Hall, where Shannon took the photograph for the front cover of her project.
"I got the highest mark in class and so when my mum bought tickets to see John perform at the Academy in Manchester I took my project for him to sign," said Shannon, from Bacup.
"My mum spotted John's mum on the balcony at the Academy but security wouldn't let her near so she got one of the bandsmen to take the project to John backstage and ask him to sign it.
"When he signed it I was so happy that I cried. Then he came out to see me and gave me a hug.
"It was a once in a lifetime opportunity and not something you get to do everyday."
At the gig Terry spotted John's brother James and he remembered climbing trees with her as a child.
Terry said: "Fame has not gone to John's head and he was really down to earth. It was so nice of him to come out specially to see Shannon and he posed for a photograph with her."
Now Shannon has posters, a T-shirt, an autographed CD and her personally autographed project and although Newman's tour is sold out she is hoping to be able to see him again later in the year.
Until then she will continue to listen to his music and watch his interviews on the internet.