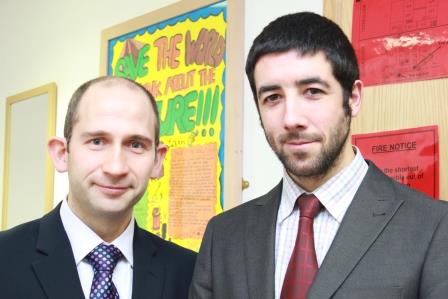 MATHS teacher Jon Howarth will be swapping trigonometry for trainers as he takes to Manchester's streets to complete the marathon.
The Haslingden High School teacher had tried to get a place in the London event, but there were too many entries.
Two years ago he completed the Manchester Marathon raising over £1,000 for The Christie Hospital.
Mr Howarth said: "I was contacted by The Christie charity and asked if I would complete the run again on April 6. After half-term I will be fund-raising in school and I am aiming to raise another £1,000 for the charity.
"Everyone knows of someone, either friends or family, who has been affected by cancer. I have lost a couple of my family members in the past and a couple of my friends in the last year.
"The work they do at The Christie is brilliant and it has always been the charity I run for. If I can make a little bit of difference in memory of my family and friends then I am happy to do so."
Mr Howarth runs about 20 miles a week but will be increasing that nearer April as he is competing in the Great North West Half Marathon in Blackpool this month as part of his training.
Last time he completed the marathon in 3hrs 59mins – but in April he hopes to finish in 3hrs 15mins.
Geography teacher at Haslingden High School John Raho is also a keen runner and set up the Holcombe Harriers where Mr Howarth is a member.
Mr Raho said: "We started the club a couple of years ago, got vests last year and this year have become a registered club with UK Athletics.
"We set up because although there was the Rossendale Harriers there was not a group for people from the Ramsbottom area."
The club meets every Thursday at the Hare and Hounds in Holcombe and in the winter the runners complete road runs of 10-12k with longer distances in the summer.
Members also compete on bikes and Mr Raho will be completing the Rossendale Triathlon on March 25 and the Harlech Triathlon on April 6.