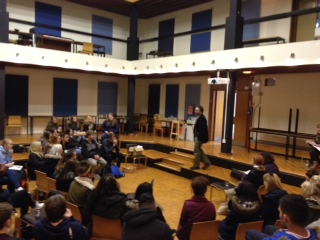 STUDENTS were given the chance to visit a top university in the North West to find out more about life at a higher education institution
and the opportunities that taking a degree in Religious Studies can bring. Head of Humanities Mrs Powell said "The trip was arranged for
current Year 11 students who have already opted for, or are considering choosing Religious Studies in sixth form, as well as current Year 12
students. A number of our students apply to Lancaster and it is important that they are given the chance to ask questions about fees,
employability and overall student experience." During the trip, students attended a master class on the challenges facing religion in the
contemporary world as well as listening to talks from current Religious Studies students; including two ex Haslingden High School students
from last year's Year13. Students were also given a tour of the campus and halls of residence.