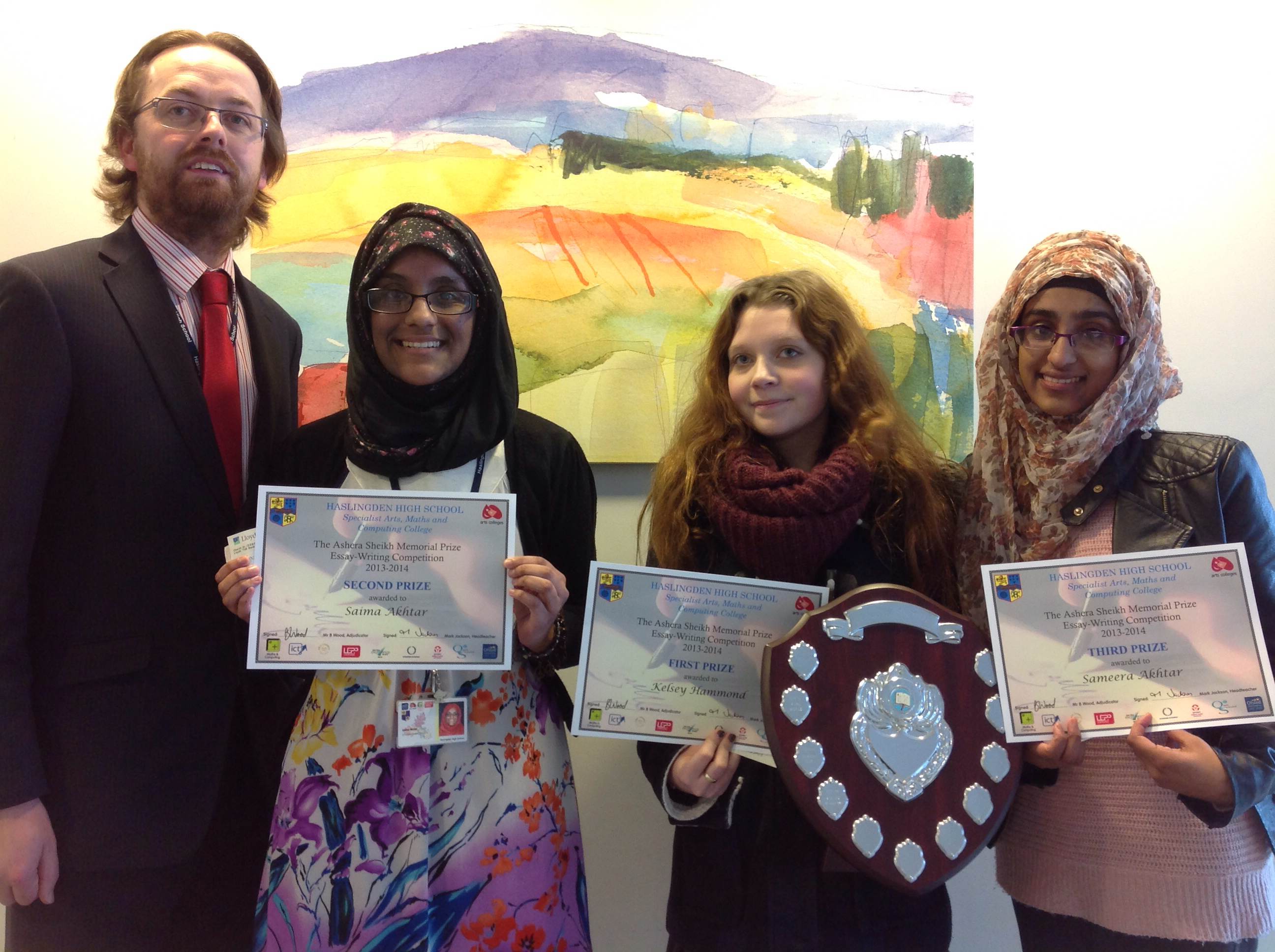 AN ESSAY writing competition held in memory of 20-year-old Ashera Sheikh saw students tackling subjects ranging from the Muslim veil to science degrees.
The Ashera Sheikh Memorial essay competition is held each year at Haslingden High School organised by head of Religious Studies Ben Wood, her former teacher.
Exceptional student Ashera died suddenly from a heart attack in November 2010 while she was studying law at Durham University. She left Haslingden High in 2008 and was hoping to become a barrister. The essay competition is now an annual event.
This year's winning essay was written by Year 13 student Kelsey Hammond, 17, who discussed, in 1,500 words, whether Muslim women in the UK should legitimately be allowed to wear the veil.
She won £70 and a certificate and shield.
Kelsey said: "I thought it was really interesting and there was a lot to read up about it, especially from news reports.
"I have a lot of Muslim friends and some do and some don't wear veils so I had a lot of people to get different opinions from.
"As part of my research, I learnt a lot including that people have different reasons for wearing the veil, a lot are personal reasons.
"Some people see the veil as a sign of oppression but I spoke to many veil wearers and some said they wore it as an expression of freedom and their right to choose rather than it being something imposed on them.
"I concluded that, in certain circumstances, where there was a matter of practicality, safety or security then yes it was appropriate to ask a woman to remove the veil but in an everyday situation it should not be seen as a threat.
"We wouldn't ask someone to remove a hat, would we?"
Twins Saima and Sameera Akhtar, 16, had their essays judged second and third while others were highly commended and commended.
Saima discussed whether science degrees are a sure-fire way of getting a successful career.
She said: "Science is really interesting and benefits so much of our lives but as someone who personally struggled with science, do you really need it to get a successful career?"
Science did play a large part in her research as she used the Internet and investigated statistics from universities.
Sameera also wrote about the veil examining the views of the English Democratic League as well as the political stance taken by France, where the veil is banned. She also brought in that depictions of the Virgin Mary always show her wearing a headscarf.
The winning essays will be placed on the school website and also printed in the next edition of the school's Humanities journal Insight.
The winning essays;
Sameera Akhtar: 'Muslim women have the right to dress how they wish.' Discuss.
Saima Akhtar: 'The surest way to a successful career is through a science degree'. Discuss